PHOTO GALLERY: Inside Tri Star Energy's New Store Design
Jan 25, 2021
By Danielle Romano, Managing Director
The concept for White Bison Coffee started about five years ago driven by a need and desire by Tri Star Energy to increase food and beverage sales at its Twice Daily convenience stores. The chain has 61 locations across middle Tennessee and northern Alabama.
Despite offering a robust coffee program with a condiment bar, and releasing fresh, new menu items, the company wasn't tracking to its food and beverage sales goals.
In fact, the operator would see customers drive onto its parking lot, fill their tanks and then drive across the street to Starbucks, noted Dawn Boulanger, vice president of marketing at Nashville-based Tri Star Energy. So, the aim became to offer a one-stop shop for quality fuel, food, and coffee and handcrafted beverages created by baristas.
Tri Star conceptualized this one-stop shop, dubbed "Twice Daily 2.0," and solidified a partnership with a coffee vendor out of the Indianapolis market who owns his own retail stores as well as a roaster, and who travels the world to buy high-quality coffee beans and teas.
Initial plans for the integrated Twice Daily and White Bison Coffee locations were to take an existing space, build the coffee shop into the left-hand side of the store, place the checkout counter in the center of the store, and insert Twice Daily into the right-hand side of the store. From November 2017 to August 2018, 10 Twice Daily stores were built this way with White Bison Coffee integrated into them.
This store layout posed some challenges, however. Store associates felt divided, not knowing who they worked for: Twice Daily or White Bison Coffee. While Twice Daily and White Bison Coffee were intended to have separate identities, the company didn't intend for them to be that different, Boulanger said. So, the company went back to the drawing board.
Clocking in at 4,800 square feet, Tri Star now has a new store design that more cohesively integrates the convenience and quality of a Twice Daily c-store with White Bison Coffee's artisan coffee beverages and fresh, handcrafted café menu. The store design recently made its debut at locations in Arrington and La Vergne, Tenn., bringing the total number of integrated Twice Daily/White Bison Coffee locations to 12.
"Now, when guests walk into the store, the layout flows better and is more cohesive, while making White Bison Coffee more prominent. It kind of smacks you in the face," Boulanger said. "It's a nice balance between the two and is a warm and welcoming look vs. a lot of c-stores today that go for a modern industrial look where there is a lot of stainless steel and bright lights."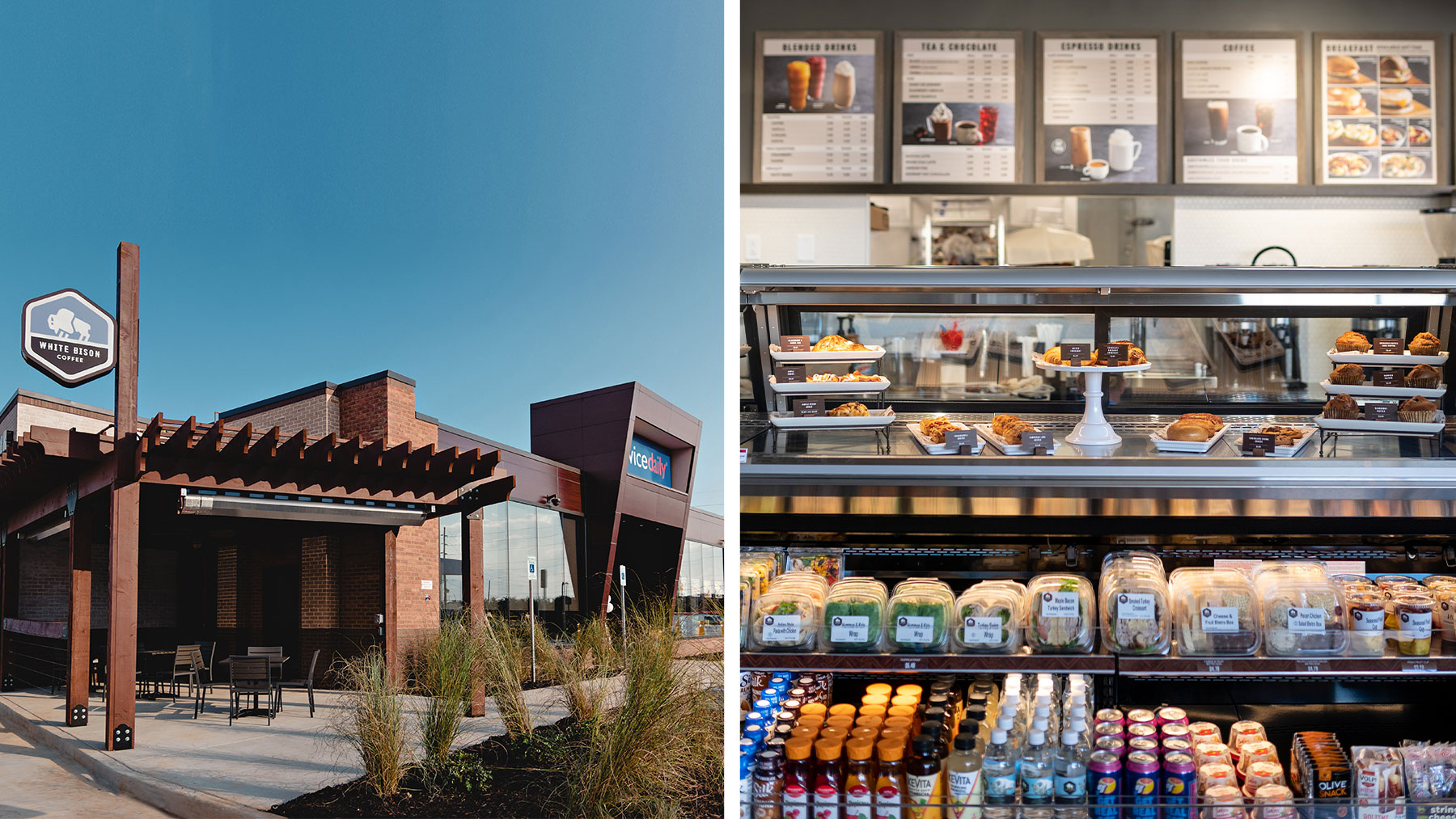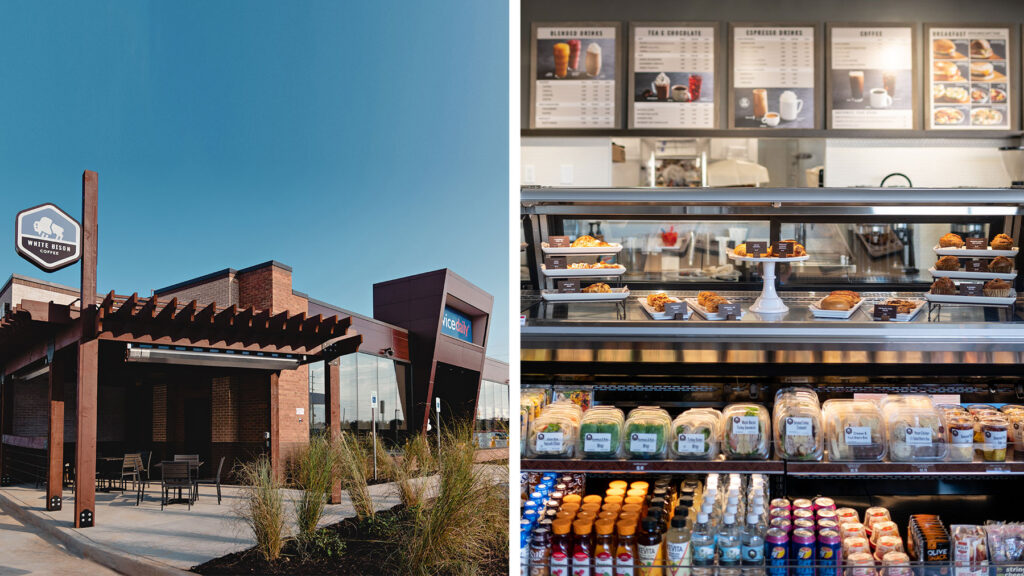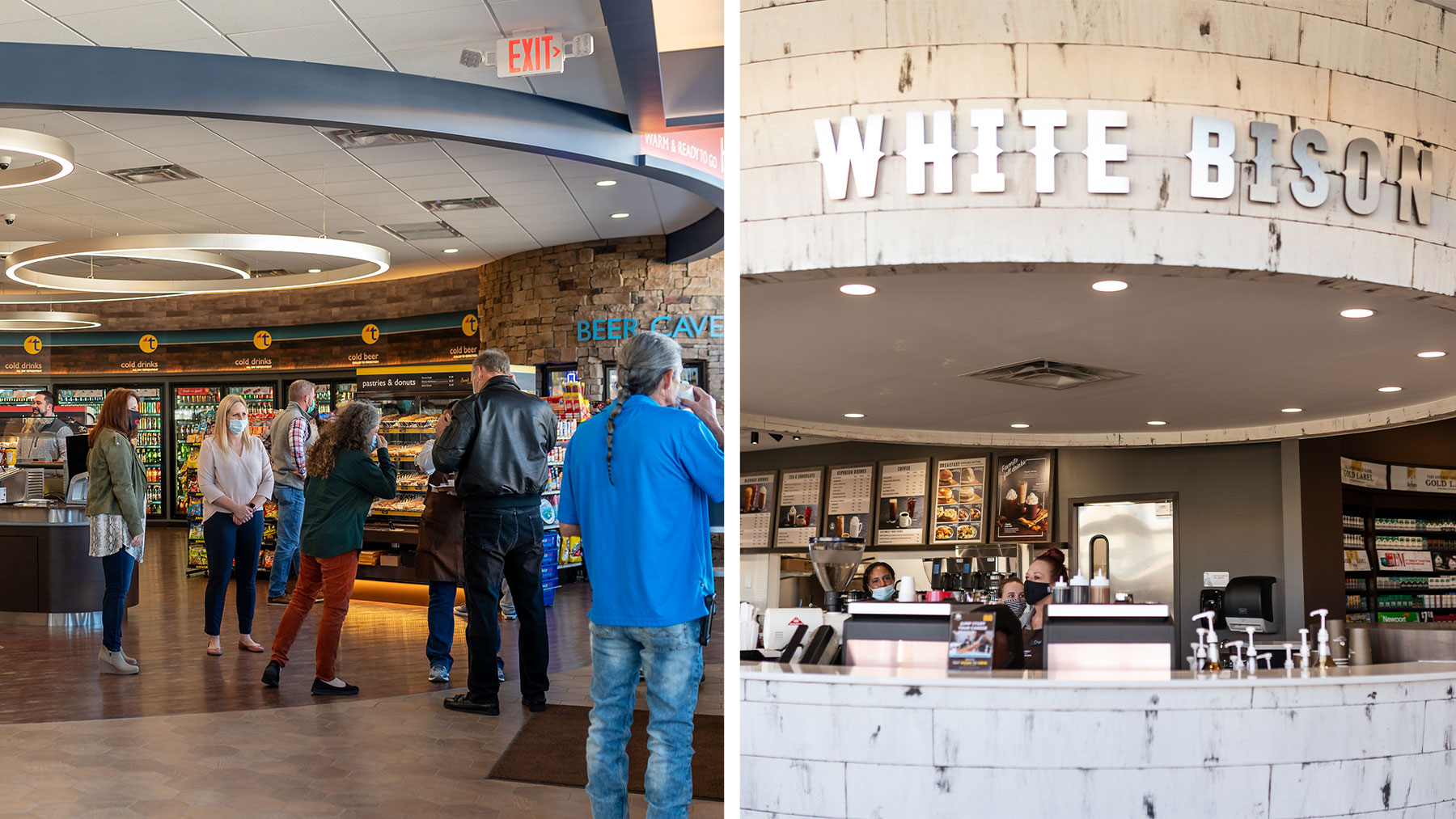 The company also decided to place a window between the Twice Daily kitchen line and the White Bison Coffee line, adding an element to the perception of fresh food preparation.
"The interior look and feel more strongly supports that we're focused on foodservice and we're a legitimate foodservice player," Boulanger noted, adding that the company is now meeting its goal of increasing food and beverage sales.
Committed to the concept of one-stop shopping, White Bison Coffee is built with a drive-thru that is used exclusively for the coffee shop's menu items, which are slightly more premium than Twice Daily's menu and are driven primarily around the breakfast daypart. Tri Star has decided that if a drive-thru is not doable at a location, then that site will stand solely as a Twice Daily store without White Bison Coffee.
Additional amenities available at the new Twice Daily/White Bison Coffee locations are:
The Twice Daily Rewards loyalty program, which offers both Twice Daily and White Bison Coffee food and beverage promotions;
New technology integration, including upgraded kitchen systems and headsets;
Outdoor seating under pergolas located on the White Bison Coffee side of the building;
Community seating and high-speed internet offered inside;
As a restaurant-type feature, hosts guide customers through the retailer's foodservice experience and are available to assist guests in finding items. This is a differentiator in customer service for Twice Daily from other c-stores, Boulanger pointed out.
Tri Star plans to build more Twice Daily/White Bison Coffee integrated locations. The company is currently focusing on Alabama as an area for growth.
"The plan is full steam ahead. Elevating the Twice Daily brand is the focus," Boulanger said.
Founded in 2000, Tri Star Energy owns and operates Twice Daily and Sudden Service convenience stores and supplies fuel to wholesale channels in 14 states. The company also owns White Bison Coffee, which operates 14 locations, including two standalone sites.
See All News
Featured News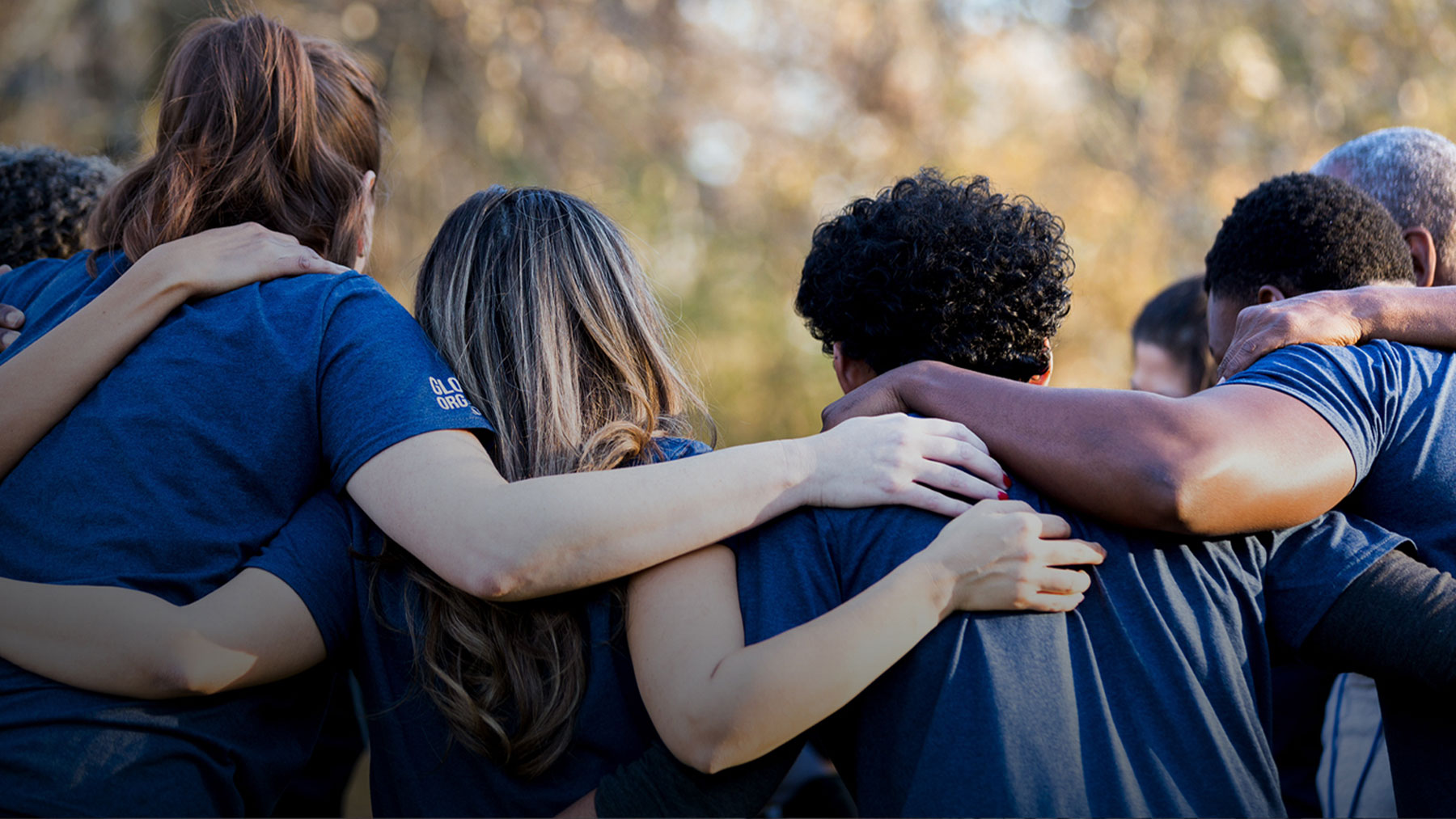 Community Service Spotlight: C-store Retailers, Suppliers Aid in Tornado Relief Efforts
Jan 04, 2022
Read More