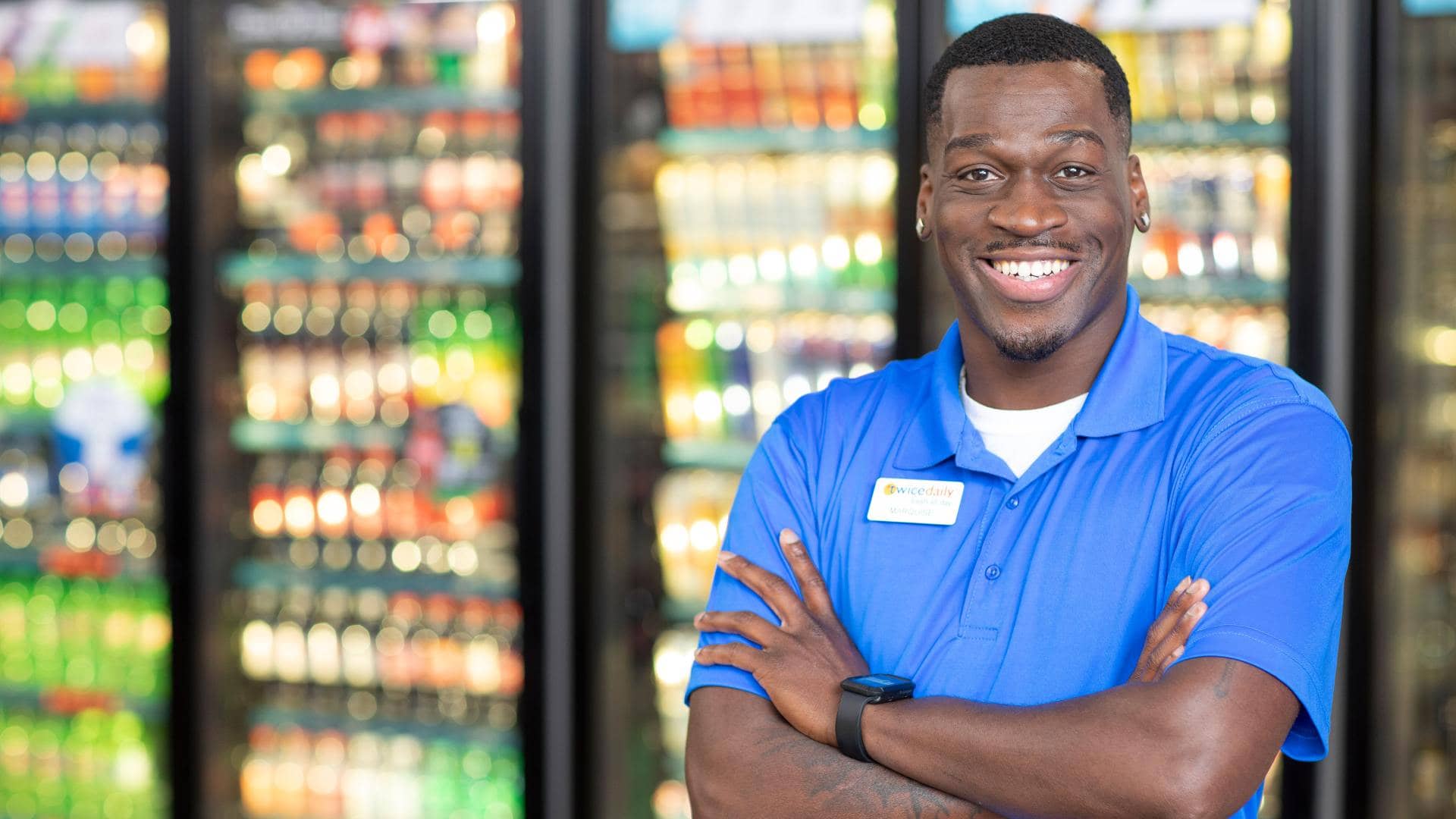 come join us
Work Where People Come First
Find a great job or a fulfilling career at Twice Daily.
See All Openings
Life at Twice Daily
At Twice Daily, we believe everyone should be able to reach their goals, so we work to create a place where individual strengths are appreciated, growth is supported, and you are encouraged to do your best every day. As a member of our team, you will feel a sense of belonging as you gain work experience and develop valuable skills. You will also get the opportunity to be a part of something bigger, engaging in our partnerships with local non-profit organizations.
Learn about our core values and all the ways we give back to the community.
About Us
Available Openings
We have openings for several different types of store operations and corporate positions.
we've got you
Benefits & Perks
Not only do we pride ourselves on a positive culture, we take care of our people with a full assortment of benefits. The energy and compassion you bring to our guests will never go unrecognized or unmatched by Twice Daily.
Paid Holiday (Double Time)
Health Insurance (Medical, Dental, Vision)
Short-/Long-Term Disability
Corporate Chaplains Program
Employee Assistance Program (EAP)
Health Savings/Flex Spending Accounts
lifelong skills
Building Your Future
At Twice Daily, we embody a culture of servant leadership and support employee growth. You will receive coaching and development to help you advance your career. Focus areas include:
Communication
Merchandising
Customer
Service
Conflict
Resolution
Inventory
Control

Teamwork
70%
of Management
Promoted Internally
What Employees Are Saying
"Working at Twice Daily has given me the opportunity to get to spend a little more time with my children and have the benefits that I was not getting at other jobs I had in the past."
Amber Reyes
Food Service Leader
"I'm proof that Twice Daily means it when they say they promote from within! I just celebrated three years with the company and have gone from White Bison Coffee Manager to Integrated Dual-Branded General Manager to my current position as District Manager!"
Kayla Hurst
District Manager
"I have gained a whole new family with the people I work with and our guests that come in every day."
Bonnie Johnson
General Manager
"I love working with and for a company where I feel like they care not only about me as a person, but they see the potential in me and invest the time and energy to see me succeed. Working for Twice Daily/White Bison has made me love coming to work."
Becky Knouf
Store Manager
"I love working for Twice Daily! Every day, I have the chance to meet new individuals, learn new things, share knowledge, and hopefully spread a little joy into our community. They challenge us to not only strive for excellence but to also be a better version of ourselves than we were the day before. I am privileged to work for a great group of supportive and motivating people!"
Brandy Barnes
Integrated General Manager
"One of the things I love about working at Twice Daily is the family-oriented atmosphere. Twice Daily strives for balance with work and home. As far as my career growth, I truly believe my work ethic and dedication are seen and help me move up in the company, and the company continuously provides me with ongoing support."
Jeremy Gann
General Manager
More Opportunities at
Tri Star Energy
Tri Star Energy is the parent company of not only Twice Daily but also White Bison, Sudden Service, and more convenience brands. Discover opportunities across Tri Star Energy today.
See Tri star Openings